I've had some good days at perc ponds in the rain. I've had a few at the almaden percs but yesterday it paid off to stop at penitencia on the way home from work. I got there at 6:30pm and left at about 9:30pm.
I started throwing out a shaky head and nothing. At about 7:20 I switched over to a weightless senko and that's when things got good. I moved spots and the first cast with that senko i felt that thump....
Fish on!!!!! 1 second later FISH OFF!!!
I had a leader of 6lbs test on my 14lbs test line. I guess i should had checked it after so many times out but i didn't and there went the fish. Sometimes all we get is one bite so i was extremely crushed by having a fish on then losing it. I tie up again this time directly to the 14lbs line and cast again. Thump..thump...fish on!!! back to back cast i got hit!!!! i pull this guy in and is about a 2 pounder...i have a rapala digital scale but didn't bust it out to weigh this one......i release him and cast again...thump thump....fish on!!! 3 cast three fish hit....i was STOKED!!!....i pull this guy in and weighed him...2.2lbs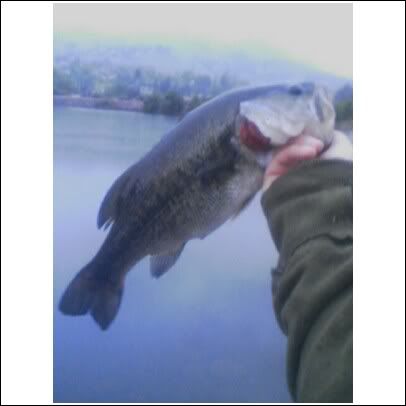 i release the fish and continue to fish......didn't get a hit right away this time.....20 minutes later...thump..thump...fish on!!!! i pull this guy in and weighed him as well....2.14lbs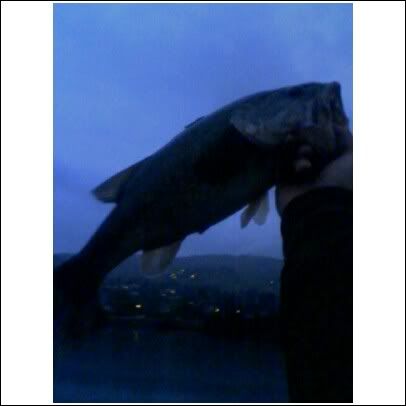 as you can see at this point it was starting to get dark........
i release yet anohter fish and now i'm hella stoked....4 hits in a matter of 30 minutes...fishing the same little bank......i continue to fish the bank and now it's dark....this time i don't feel a thump but just a little resistance....i set the hook....fish on!!!
i fight the fish for a 1 minute or 2 and land him.....a 4.6 LBS !!!!!!!
i tried to take a picture with my camera phone but there is no light in sight....
...@#$%!!!!!!......i wanted to take a pic of the fish but there was no way for me to do so unless i hauled the fish a long ways and i just didn't think it was worth risking injury to the fish......my 2nd biggest fish since i started fishing 4 years ago. The biggest i've caught to date was a 7 pounder out of almaden lake on my birthday 3 years ago.
anyway...i continue to fish the bank and no luck...i fish for another 30 minutes in other locations and nothing.....i go home sweater soaked and all....but.......WHAT A GREAT NIGHT FISHING IN THE RAIN!!!!!!!!