Thats right bank anglers,
Looking to get on the water? Here is your chance!! And at a cheap rate too...
I have 2 great lil fishing boats for sale, that are well.. looking for a good home and some time on the water..
I have my Tracker and that is perfect for me... Both of these boats will handle any of our local lakes and some places on the delta too..
The price is right and this is the time of year people get their tax returns and are looking for a little jewel to get them on the water...
So here you go...
First...
$1000.00
takes it home / fishing. I will deliver it too if needed..
Comes with the trailer, 10HP Evinrude (will need a minor tuneup from sitting-plugs,wires, impellor), fish finder, almost new 40lb minnkota transome mount trolling motor, and the battery.. battery is questionable though from sitting( mayjust need a acid recharge).. also has rod holders and great walking/ casting deck too as you can see...
And Next...
14ft Gregor with 15 HP Evinrude
Comes with Trailer, New 40lb thrust Minnkota Transome mount Trolling motor, seats and walking/ casting deck too..
Rear metal bench seat was removed and replaced with swivel seat..
1800.00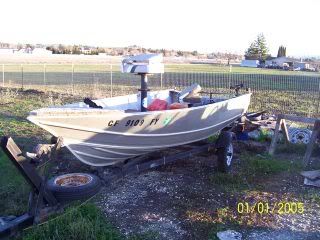 First come first serve.. Lost the pink on the Gregor so we will have to work on that..
Should have to new pink on the 12fter soon, the previous owner is getting that for me so it can be sold.. Both boats will need to be registered..
Jim Jr used to own the Gregor so he can vouch for it Im sure..
Let know of anyone who is interested.. Need them gone.. I have a morgage payment I have to make and well these two being sold will help me make it.. scarping by right now, so anyone who is a "SJB'er" with an active screen name and knows of anyone looking for something like this... I will give you $50.00 cash for helping sell them..
You help me, I help you.. think of it as the San Jose Bass "Stimulus Package"...