It has been a while since I've been out on any water.
Capt. Steve invited me out several time, but due to one thing or another just couldn't make it.
Well, as he says, the stars aligned, and yesterday I was able to join him and Larz yesterday in an epic Ling hunt!
We met at the harbor at 6a. It was damn cold! There was plenty of ice on the dock surface!!!
I had multiple layers of warm clothing on, but thought it wouldn't be too bad on my legs with just jeans…boy was I wrong! Both Steve and I were just a bit chilly. Larz was the smart one and brought himself long johns cover by jeans and his snow boots. Lesson learned. Haha
On the water by 6.30a and to the fishing grounds by 6.45a. As soon as we get there, Larz and Steve drop lead and not 5 minutes later Larz had fish on!
I had to rig my rod up which was a bit troublesome without any light and being freezing cold. My fingers were just a bit cold. Me being as stubborn as I am I gave it a good go. In the end Steve handed Larz a flashlight to give me some light so that I could get fishing. I quickly found that we all needed heavier gear for the target fish we were after. I should've brought my heavy conventional gear, but unfortunately, I only had my 8'6" heavy salmon/steel head rod and 4000 spin reel. Steve and Larz came prepared with the proper gear.
Just a few minutes after I got rigged up, Larz got hit again!
Once it got somewhat light out I got my first fish. A little black rock fish which wasn't really worth a pic. Gave it a kiss and asked for it to bring up its larger cousin to investigate my bait.
Cruised around a bit and Larz got bit yet again.
Took a while, but Capt. Steve finally got bit. Largest fish of the day! Since I wasn't having much luck, Steve offered up the fish to me. Yes pls!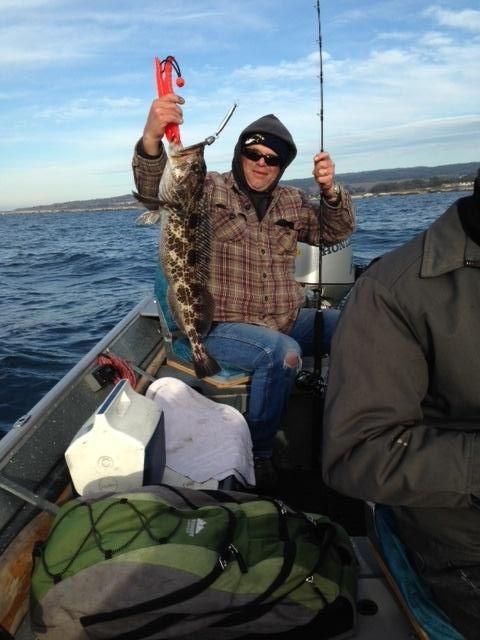 Chugged around a bit longer and Larz…baaammmm!
I finally get another hit and it's another small rock fish. Fat little gopher and I kept that one since I wasn't bringing much of anything up. Still no pic of that, though.
Toward the later part of our outing, both Steve and Larz kept getting good hits, but missed them so I brought out a heavier lead head and put a large grub on it. A little time goes by and I get snagged. I was a bit bummed cuz it was a nice bait to lose. Just then I felt a head shake! OH SNAP!!! That's not a snag it's FISH ON!
I guess the fish grabbed the bait and stood its ground at the bottom at first, but since we were drifting may have swam out a bit and that's when I felt the head shake. Now, remember I only have 15lb test line so when I start fighting the fish I made sure the drag was loose enough for the fight. Steve and Larz were nice enough to reel their lines in so that I could fight the fish. Took me from one side of the boat to the other! Got him up to the surface and tried to grab the line, but he wasn't finished yet. He dove back down about half way to the bottom. My little reel was singing and my rod fully bent over. Wish I woulda asked the guys to take a pic of me fighting it, but oh well. In the end I was able to land my very first Ling!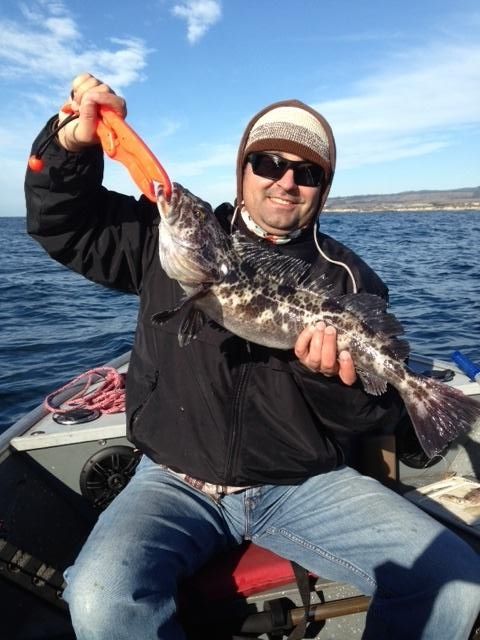 Awesome fight and it was actually pretty cool fighting the fish with the lighter gear I had! Took the pic, thanked the fish and since Steve let me have his fish, I let my very first Ling go to fight another day and hopefully give me good karma.
A few more bites on Steve and Larz's rods, but Larz ends up with the last fish of the day!
To me it was an epic day of fishing. I have never seen so many Lings come up. Plus I got my first!
Thanks to Steve and Larz for the good times!
Dinner for tonight!
fnf