Kelly Lake
3-11-09
Was a cold day that day.. got there at 6am , complete darkness.. The carp were jumping everywhere water was 54 degree... no fish till about 10 am when the sun had warmed the water a bit to 57 degree on the west side of the lake. Thats when my parnter and doubled for a brief moment... I landed mine @ 3lb 12ounces.. and his , well he never saw it. It started to run on him (using 6lb test) and then broke him off.
We finished the day off with some quality fish all on June Bug Senkos (Weightless Texas).
Partner didnt get another chance after that one broke him off..
Heres the quality catches.. left out the couple cookie cutters.. finished with 8 for the day.
2lb 4 ounces
3lb 12 ounces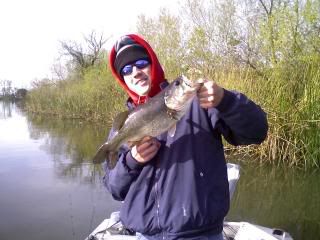 3lb 4ounces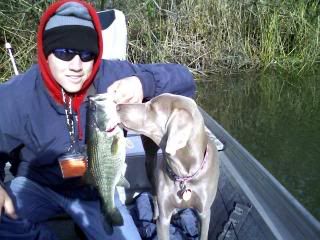 Then on
3-18-09
Got there with buddy from the club around 12:30pm.. shot across the lake.
Water temp came up almost 6 to 8 degrees from the previous week (3-11-09).
Water temp was 62 to 64 all day long. Air was warm and muggy.. it was just as if you were in Florida .. IT was absolutely awesome!!!
We finished the day with 9 in the boat.. he lost 2 more 2 to 3 lbers. maybe 4 were cookie cutters..
Got to our spot on a point... we tried close to the bank in 2 feet of water, water was clear too.. figured that since it was already past high noon the fish might be a tad bit deeper.. and we were right..
All my fish were on 7" June Bug Senkos
Tony got his 1st one on a texas rigged baby brush hog.
And I immediately doubled up with him!!
His was 3lb 2ounces, mine was 4lbs 2 ounce.
Then he caught another 3lber on wacky rigged 5inch watermelon senko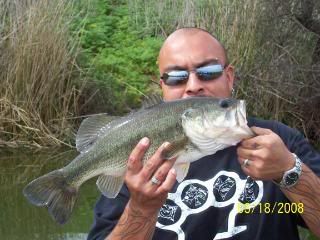 Time went by and I managed a 3lber (excuse my fish belly white self)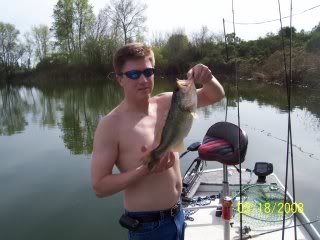 And then manage 2 more that were over 2lbs also...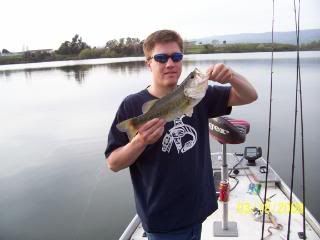 All in all an absolutely wonderful day on the "puddle"..
This lake is 2lber average... but there toads in here too..
Buddy landed one over 5 lbs last years...