My hours got cut at work for the winter so I got fridays off now....it's awesome that I can fish on fridays now!
Straps and I went to the delta to chase some linesides. First hour we got three blow ups each. I hooked and landed this monster on a 9" lunker punker.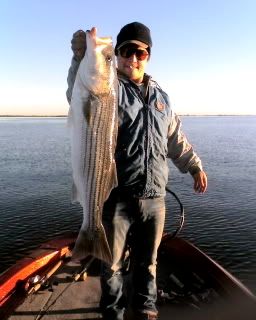 Da mn, I love me some stripers. I had to turn trolling motor up and go away from the fish cause she was coming at me full speed. Then she got in to open water and took off.....zingggggg, zing...so sick! I kept pressure but made sure the fish had enough drag. Finally tired her out, she barely fit in my net. Then the craziness starts...haha. My frikin scale batteries died right then, my camera somehow took a crap too.
So my biggest striper ever I can't even weigh it and I don't have a good picture. I measured her at 35", estimated her at about 15lbs, thanked here and let her go.
We caught a few other smaller stripers throughout the day as well. Can't wait to get out again.